Synopsis:
I'm drowning in the numbness. It's pulling me under and I can't see the surface. It's easier to pretend I can't feel. And the longer you pretend, the easier it is to believe. But he wants to save me. Only he can't. I have to save myself…and I don't know if I want to.
Rowan Sinclair's life has been anything but easy. With an alcoholic mother and a sleazy stepfather, it's been her responsibility to raise her younger siblings. At twenty-one she's chained to a life she doesn't want, but sees no other alternative. After all, what would happen to her brother and sister if she were to leave?
Trenton Wentworth sees the pain behind Rowan's eyes. He wants nothing more than to make it disappear. To hold her. To love her. Except Rowan keeps everyone at a safe distance. But if there's anyone that can break down the walls she's built around herself, it's Trent. So she avoids him at all costs. But Trent isn't one to be easily evaded. He's stubborn and determined. He'll save this girl even if it costs him everything.
Love, lies, and deception.
That's the name of the game when you're Tempting Rowan.
RELEASE DATE: May 4, 2014
Add on Goodreads: https://www.goodreads.com/book/show/20181492-tempting-rowan
Buy Links:
Excerpt
"Hey!"
I turned and found myself smiling as Jude jogged towards me. I didn't know how we'd ended up friends, but somehow we clicked. He was tall with brown eyes and light stubble dotting his jaw. His straight brown hair fell messily over his forehead in a way that was effortlessly sexy. His long-sleeved green shirt hugged his muscular chest and jeans hung dangerously low on his hips. I'd be lying if I said I wasn't attracted to Jude, but what I felt for Trent was so much more—even if I insisted on denying it.
Jude wrapped his muscular arms around my torso and spun me around.
"Put me down!" I shrieked, beating his solid chest with my mitten covered hands.
"I missed you, Row," he grinned crookedly and planted a kiss on my cheek.
"You saw me yesterday," I replied, running my fingers through my hair after he'd set me down.
"So? I still missed you," he smirked, striding beside me.
"I didn't miss you," I looked up at him, fighting a smile.
"What?" He gasped, putting a hand to his chest. "How could you not miss me? Most women wished I missed them, and here you are wounding me for professing my feelings. Nice, Rowan. Real nice."
"Oh please," I laughed, adjusting the straps of my backpack as we crossed from the parking lot onto the sidewalk. "We both know you were banging some girls brains out last night."
"True," he winked. "Could've been you," he chuckled.
I pretended to gag. "No thanks."
"Are you a lesbian or something?" He joked. "I've never met a straight female that didn't want to hop on this and take a ride," he stopped walking and rolled his hips in a vulgar manner.
"Not a lesbian," I shook my head, "just not into man whores."
"Baby, for you I'd change my ways," he threw an arm over my shoulder and hugged me against him. A girl passed us and glared at me. She had to be one of Jude's many conquests.
"And ruin our wonderful friendship? I think not," I removed his arm from my shoulders.
"That's true," he scratched his stubbled jaw. "I really value our friendship."
"Sure you do," I rolled my eyes, heading into the building.
"I do," he assured me, his voice suddenly serious.
We headed into the same classroom and he sat down in the seat beside me. It amazed me that Jude—womanizer, playboy, Jude—was studying to be a nurse. I'd think he'd be too selfish for that. But while I might joke about his slutty ways, Jude was a nice guy…to me at least. He was also caring and compassionate. Once, when we'd been working at a hospice, I'd seen him spend an hour just talking to one of the older ladies.
Jude propped his legs on the empty chair in front of him, crossing his legs at the ankle. Our classrooms were auditorium style, which I hated because that meant that the table attached to my chair was less than adequate workspace.
"Professor Hamilton is going to be pissed if he comes in here and sees your shoes on the seat," I warned.
"I don't give a fuck," he shrugged, eyeing one of the girls in the classroom. When she caught his gaze he licked his lips suggestively.
I kicked the legs of his chair and he glared at me. "What the fuck, Rowan?"
"Sorry, I couldn't control myself," I shrugged innocently. "I have muscle spasms."
Author Bio:
Micalea Smeltzer is an author from Virginia. Her name is pronounced Muh-call-e-uh. She is permanently glued to her computer, where she constantly writes. She has to listen to music when she writes and has a playlist for every book she's ever started. When she's not writing, she can be found reading a book or playing with her three dogs.
You can email Micalea at:  msmeltzer9793@gmail.com
Like her facebook page to stay updated on all the latest book news:
http://www.facebook.com/MicaleaSmeltzerfanpage?ref=hl
Follow her on twitter:  https://twitter.com/msmeltzer9793
Website:  http://micaleasmeltzer.com/
Giveaway: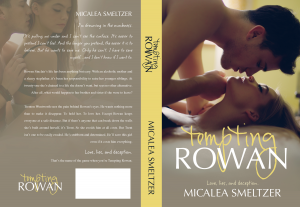 Playlist:
1. Stay the Night-Zedd
2. Hey Brother-Avicii
3. Nitesky-Robot Koch
4. Addicted to You-Avicii
5. Wicked Game-Emika
6. Kill Your Heroes-Awolnation
7. Ticking Bomb-Aloe Blacc
8. Say Something-A Great Big World
9. Afraid-The Neighborhood
10. Still into You-Paramore
11. Heart Attack-Enrique Iglesias
12. Sweater Weather-The Neighbourhood
13. Happiness-The Fray
14. Heaven Knows-The Pretty Reckless
15. Dead in the Water-Ellie Goulding
16. My Blood-Ellie Goulding
17. Love Me Again-John Newman
18. Waiting Game-Banks
19. Don't Be Afraid-Lee DeWyze
20. Open Your Eyes-Lee DeWyze
21. Touch-Daughter
22. Heavy in your Arms-Florence + the Machine
23. Invincible-All Good Things
24. Where I Come From-Lifehouse
25. Team-Lorde
26. Last One You Love-Goldhouse
27. Don't Wake Me-Robots Don't Sleep
28. Sad Song-We the Kings
29. What it Is-Kodaline
30. Drink You Away-Justin Timberlake
31. Do or Die-3OH!3
32. Don't Deserve You-Plumb
The following two tabs change content below.
The NerdGirl
Blogger, Reviewer, Promoter extraordinaire, I don't think you will find ANYONE that loves books more than her. Gladys will read anything but prefers paranormal and fantasy. She likes historical and some contemporary ….. as long as its not predictable.
Latest posts by The NerdGirl (see all)